1950 Ford Coupe
West Coast Car - Frame-off Restoration
This fantastic Classic Ford Coupe has SOLD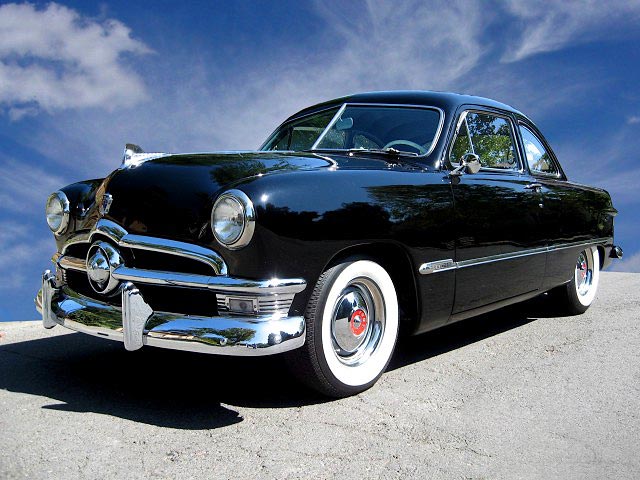 This is a beautiful 1950 Ford Coupe for sale. This tastefully restored Ford Coupe is ready to go. This car was purchased by it's most recent owner in 2005. It was restored about 5 years ago and has been enjoyed about 7000-8000 miles since completion. Nicely equipped with a 350 Chevy V8 and a 350 Turbo Hydro transmission to be reliable and trouble-free. The 8" Maverick Rear end with 300 gear ratio is perfectly geared for comfortable highway cruising. A new Borla Stainless exhaust sounds tough yet quiet. Has a complete Bullit pulley system and a walker fan shroud. Rides Nice!
This classic Ford has all new brakes, drums all around with shoes contoured to the drum (trimmed) so no fading. Sports Jamco suspension with a coil up front and is dropped 3". The drag link and tie-rod ends are all new. 1 1/8th Heavy duty Jamco stabilizer bar, Gas-o-matic shocks all around making the ride very nice and smooth with great handling. Pertronix ignition and a very mild cam give it a little extra power.
This beautiful shoebox Ford has been completely rewired using an EZ Wire 18 panel harness and has a Hotronics Direct Signal System built into the vintage main gauge as well as a built-in Shift Indicator. The Hotronics Battery Kill System allows you to easily shut the entire system down with the flip of a switch for storage. Has all new glass and Rubber, fresh Front & Rear Bumper and grill chrome. 6 & 7" Vintique Wheels with NOS 55 T-Bird Wheel Caps look period and ride nice.
If you are looking for a beautiful classic Ford Coupe that hasn't been turned into a raging street rod yet has some very nice upgrades this is the Ford Coupe for you.
VIN# BODL132963
---