1947 Hudson Commodore
With Hudson Drivemaster
This Classic Hudson has SOLD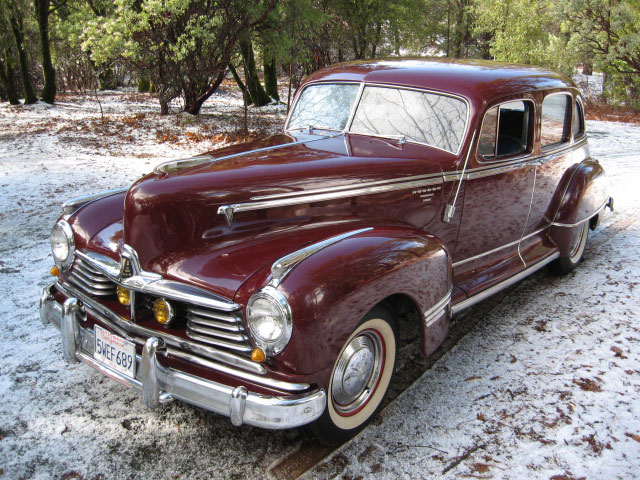 Here is one nice, old Hudson Commodore for sale! This is a strong running, nice and straight 1947 Hudson Commodore that could be enjoyed as-is or driven while small improvements are made. The brakes have been redone and it stops on a dime. It starts, runs, drives and shifts well. The transmission is the Hudson Drivemaster, an exclusive Hudson feature. It had Hudson's oil bath clutch and 3 speed manual transmission with electric controls and vacuum cylinders added.
This Hudson has many fun and unique features including a button under the right taillight that allows you to air up the spare tire. The row of 3 buttons on the dash are marked H, D and M. A press on the first button makes it so you can drive it as a standard shift. A press of the middle button and you have automatic clutch and a manual shift. A press of the right button gives you automatic clutch and automatic shift. Important to note however, this system appears to be disconnected and inoperable. This car is comfortable and gets a lot of attention! The odometer reads 67,000 miles. The actual miles are unknown. Good Hudson's of this era without rust issues are hard to find so this will be a good find for someone out there.
The interior of this fine Hudson Commodore appears to be totally original as well as the headliner and it has a nice, complete original trunk. Solid floors and undercarriage and the engine runs great but sure could use some detailing. Please Note: The car has good, clear glass. We brought the car out of the garage to shoot the photos on this chilly February morning. You will see that the windows are a little fogged having come from warm storage to mid-thirties temps.
VIN: 1747813
---