1936 Dodge D2 Rumble Seat Coupe
Stratosphere Blue California Cruiser
This Fantastic Dodge D2 has SOLD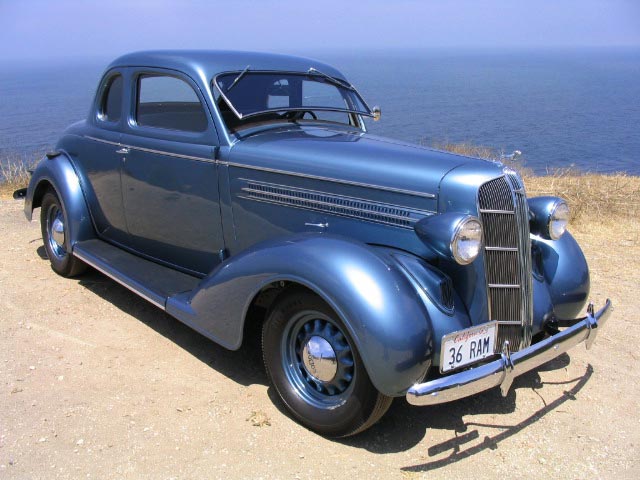 Recently completed full restoration. This incredible 1936 Dodge D2 is just stunning! A high quality restoration that can't be beat! This over-the-top restoration turns heads. The rebuilt flat 6 starts and runs quietly with plenty of get up and go. Car has less then 500 miles since full restoration. The engine was fully rebuilt prior to cosmetics and has approximately 20K miles on it. Roll-down rear window, Nice, immaculate fender-steps into the rumble seat, fully functional pop-out vented windshield. All new beading (Panels painted off of vehicle) and the finish is like glass, nearly flawless two-stage paint job. (That's the Pacific ocean in the reflection).
Entire interior is gorgeous! Note the piping and buttons. Fully refinished dash. Seatbelts in the car as well as the rumble seat. Rumble seat is finished in vinyl. Side panels are new as is everything else! Bias Ply Firestones. The most immaculate, well restored Dodge I have ever seen from this era.
Car was originally Stratosphere Blue and is an extremely close match with a 2-stage paint job. The gauges all work and have been fully gone through. The renewed transmission shifts exactly as it should. The steering is smooth and tight and the brakes are new and solid. This car drives nice and tight and needs a new owner. Will it be you? See my user rating and bid with confidence! Don't let this rare, high-end Dodge Rumble Seat Coupe get away!
---