1929 Ford Model A Roadster
High Quality Frame-Off Restoration
This Ford Model A has SOLD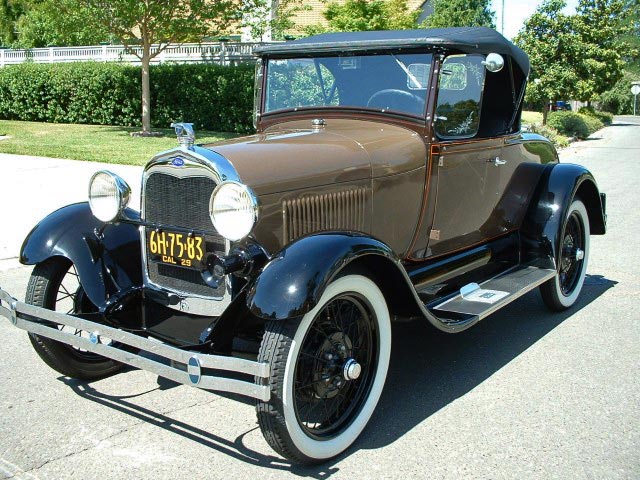 Up for auction is this beautiful, California frame-off restored 1929 Ford Model A. This beautiful rust-free California Model A sports the 200 cubic inch "B" engine backed by a 3-speed floor shifter. This is the finest Model A Roadster that we have ever seen! Little is known about this car. The last owner had just a few months and was forced to sell. We only know that the prior owner had this car since 1966, that it has won numerous awards and that it is a "trailer queen" with virtually no more than a couple thousand miles since a 100% frame-off restoration. All documentation on this vehicle has been lost. While the restoration looks fresh, we have absolutely no idea when it was completed. The quality is impeccable, from the interior to the paint, and the "B" motor and the undercarriage.
This is an unbelievable Model A in incredible, show condition. Everything is stunning, with no apologies required. Everything works. I want to use the word "perfect" to describe this Model- A but we all know that only God is "perfect". I will say that if God collected Model A's - this would more than likely be His favorite. The paint is high quality, looks like glass with a deep shine and no rust or noticeable scratches or dings anywhere. The chrome and trim are all in beautiful condition. The top, seats, panels, glass, rubber and all interior related items look & smell new. Every inch of this car is detailed and immaculate. It even comes with the original vintage plates. We have tried to get more information unfortunately her history is vague. This car starts, runs and drives as it did brand new. Bid with confidence. If you want a roadster that you can show with pride and win awards with, this is the one!
This beautiful Ford Model A will not disappoint!
---