1970 Chevrolet El Camino
California Truck, Rust Free Driver
This Chevy El Camino has SOLD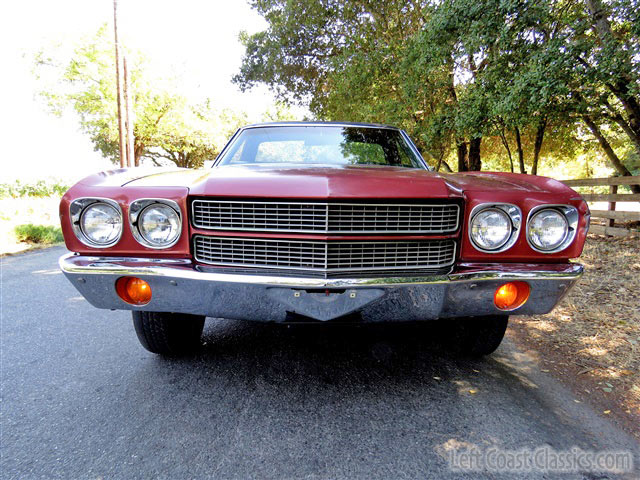 Nice little 1970 El Camino Custom pickup truck that was built in Los Angeles. It's been a California truck since new and rust free. I purchased this truck a while back with the idea that I would use it as a shop truck for my business. Since then I have decided that I would rather have a three-quarter ton or 1 ton modern pickup truck so I can do a little more towing than this is capable of.
When I picked this truck up a few months ago it had been in storage since 2004. It's a rust-free California car and pretty original other than the fact that at some point in the 1990s it had been repainted and the interior had been changed. With the idea that we would have to use the truck a lot we went through it mechanically. It has a new battery and alternator. We also went through the cooling system and replaced the water pump and thermostat along with replacing the water hoses. The brakes are excellent and the fluids are clean. We cleaned out the fuel system and rebuilt the carburetor, replaced the spark plugs and put in a new air filter. The truck is in good running condition now. I really have no idea how many miles are on it but the small block V8 sounds good and the shifting is tight. Shows 88,600 but I have no way of knowing if these are original.
Next, we wanted to make sure it looked good so we gave it a very thorough detailing, we polished the paint and the chrome, repainted the wheels and installed trim rings and wheel lip molding. We also refinished the bed so it looks all fresh and nice. We installed new carpet and a new headliner. Everything is working in the truck now and it's a nice little Cruiser. The only thing that doesn't work is the radio. My plan was to put a more modern stereo in it but I'll leave that to the next owner to decide.
This truck originally came from the factory with air conditioning so everything is in place if somebody wanted to install a simple little Vintage Air system or put a stock compressor back in. Otherwise the heater system is in working order. The lights are all in working order as well as the wipers, etc. This should be a good little truck for somebody to enjoy and use as-is but it also would be a cool truck to restore and perhaps make a Super Sport clone out of.
ST 70-13680
BL 02902 BDY
TR 755 48C PNT
OB 132795 110554
Thank you for visiting!
VIN# 136800L125550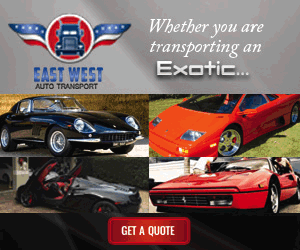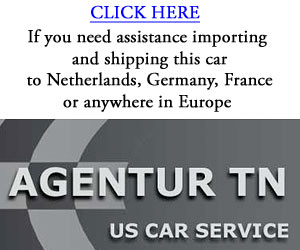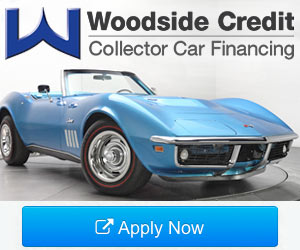 ---
1970 CHEVROLET EL CAMINO FEATURED PHOTOS:

press play/pause - or use right and left arrow tabs to view pictures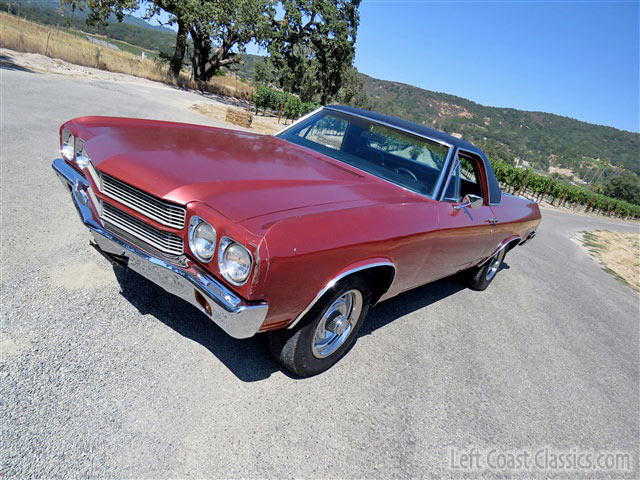 ---
VIDEO GALLERY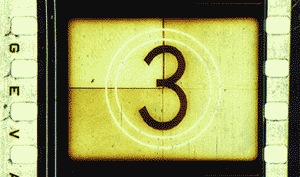 ---
SLIDESHOW GALLERY
CLICK A PHOTO GALLERY BELOW!
---