1969 Chevrolet Camaro Z-28
Rare Numbers Matching X33 with 302 Engine
This fantastic classic Chevy Camaro has SOLD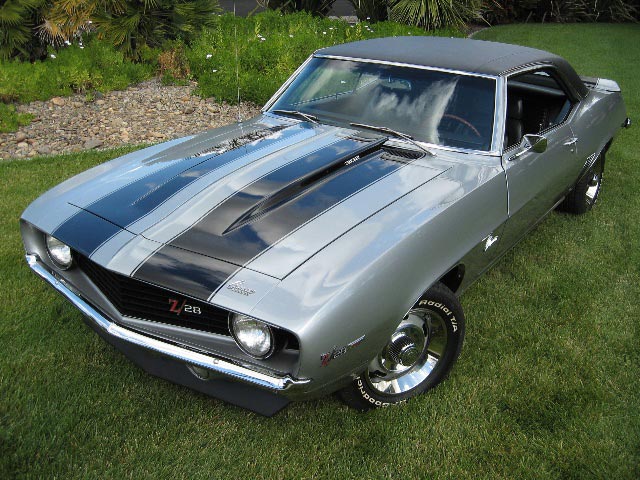 We have a fantastic 1969 Chevrolet Camaro for sale. This is an original 1969 Chevy Camaro Z28 with its matching numbered DZ 302 motor; an X33 coded special order car. The vin # is 124379N622493, a Norwood assembled car. The motor number is V0318DZ dated March 18th 1969. The body assembly date is 03D (fourth week). It has been repainted in the original color, number 69 Cortez Silver with Black stripes. It has its original Black vinyl top as indicated by the B prior to PNT on the cowl tag. The paint and the body on this car are just about flawless. I don't believe any parts of the body have been replaced - this is an all original beauty! The fitting of the fenders and doors, quarter panels, trunk lid and hood appear to be factory fitted.
This car has been stored in a dry climate. The interior is the original black code 711. The seats are standard both front and back. The seats, headliner and door panels are original. It has the beautiful optional rosewood wheel and rosewood dash. Console and tachometer are black faced, the center gauges are off-white. Has newer, pre-molded rugs and kick panels. The interior is just about flawless. It sports an uncut dash and factory AM/FM Cassette.
Beautiful GM Rallye wheels with original Chevrolet rings and GM center caps. It sits on four brand new BF Goodrich TA's 225/60/15s. The engine has been rebuilt and runs very strong. Has the original 1969 Winters intake (part #3932472). The carburetor is 650 Holley dual feed. I think the valve covers are original but they have been polished. The head numbers are 3927186. The transmission is a Muncie with numbers 3088336 and 3858403 cast in the case. The exhaust manifolds are Thorley stainless 4 into 2 with thick flanges. The exhaust is 3' with crossovers and dual turbo mufflers. The pipes go up and over the rear end providing a quiet yet throaty tone as you can hear in the video. Sports a 12 bolt posi-traction rear end. I believe the gears are 3:55 ratio.
The upper and lower A frames are brand new as is the huge anti-sway bar. (It is typical to replace the originals over the years they had a tendency to crack). It has new springs, shocks and brakes. It has the brake porporting valve in the center under the left side of the car and it has the large Z28 fuel line on the right side and the original fuel tank. Has original GM Ralley wheel for spare.
This is a great opportunity to get your hands on a purebred, investment grade Chevy Camaro Z28.
Thank you for visiting!
---

Find Camaro Z28 parts for sale: Search for the Camaro parts and accessories you need