1962 Cadillac Limousine
Series 75 Fleetwood
This Cool Classic Cadillac has SOLD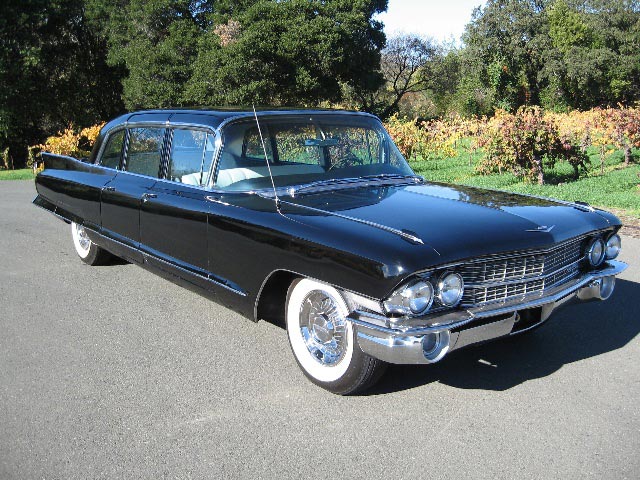 I purchased this Series 75 Fleetwood Cadillac last winter with the idea of opening a classic car wine tour business. I have found myself much too busy to pursuit this and reluctantly have decided to sell the car. My wife and I had a great time this year using it to go to outings and dates with our friends here in California's wine country! Every time we arrive anywhere, the crowds surround us!
I purchased this Cadillac limousine from a private collector in Washington State. The car was in his collection for many years. He purchased the car in Los Angeles. Presumably it is a California car though it now has a Washington title. (Since I'm a dealer I never registered it, I just used my dealer plate to drive it).
The car has many great attributes. It also has a few minor things that will need attention. These are listed below. I was told that the engine was rebuilt when I purchased it and believe this to be the case. It runs very quietly and smoothly and burns no oil. The car can sit for several weeks and immediately starts after a couple of pumps. The automatic choke works perfectly. The transmission shifts exactly as it should. The car runs cool and never overheats, even in our 4th of July parade. The paint and body look nice but are not perfect. The glass is very nice all around and the windshield has no cracks. The car is very functional and very drivable. The brakes work beautifully and stop the car with ease.
This is a terrific Series 75 Fleetwood Cadillac limousine that is in solid mechanical shape and should perform well for years to come. Perfect to start your own classic wine country tour business!
Thank you for visiting!
---