1954 Kaiser Darrin 161 Convertible
Incredibly Rare Classic - Number 327 of only 435
This Rare Kaiser Darrin 161 has Sold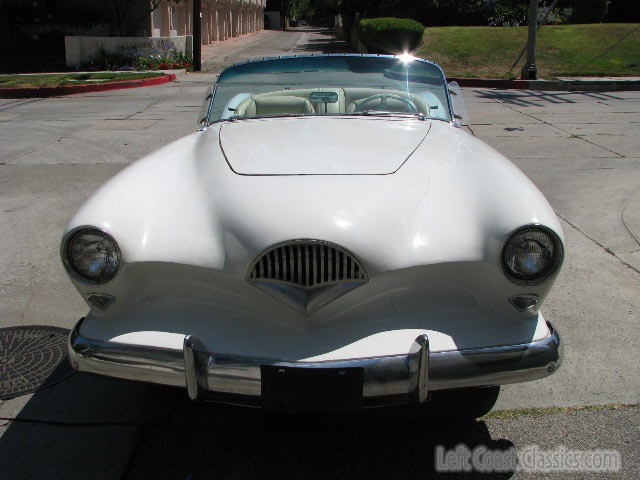 Incredibly rare 1954 Kaiser Darrin 161 Convertible for sale
This Kaiser Darrin was purchased a few years back from Hyman Ltd. Classic Cars with plans to restore it. It has been stored until recently and is now here in our warehouse in Sonoma. The car starts; runs and drives well yet is ready for a cosmetic restoration. These are incredibly rare vehicles and even recently, restored Kaiser Darrin vehicles have been selling at auction in the low six-figure range. This car is Number 327 of only 435 ever built, of which only 412 are known to have survived.
This beautifully styled and sculpted 2 seater, with its unique patented sliding doors and fiberglass body, was the first true American sports car beating the Corvette to the marketplace by just a month.
The car does not have its original Willy's Flathead engine, which was underpowered. Like many Darrin's, the engine was switched for the more powerful Corvette engine. A number of the last 100 cars produced had Cadillac V8's installed.
The original Yellow Satin upholstery and stitching is in very good condition and shows little sign of wear and tear. All Chrome and instruments are in good condition. It comes "fully loaded" with multi-spoke wheel covers, heater and seat belts which were the only options available at the time. The 3 position convertible top and sides are in great condition, but the "plastic" windows need replacing. The windshield has an isolated crack on the lower driver's side. A replacement costs around $375 and can be obtained through the Kaiser Fraser Owners Club (KFOC).
Based on the Henry J's mechanicals, the Darrin went on sale in January 1954 and it's difficult to understand how that happened at that point; Kaiser sales for the entire model year would amount to less than 10,000 cars and management must have known what was coming.
Whatever its reasoning, Kaiser went ahead with a fiberglass-bodied sports car that weighed just 2175 pounds, rode a 100-inch wheelbase and relied on a 90-hosepower, 161-cubic-inch six. It wasn't an exact match for the better-known fiberglass two-seater from Chevrolet – the 1954 Corvette used a 150-horsepower 235, was more than 500 pounds heavier and cost about $150 less – but its performance and economy were adequate.
The Darrin was every bit as noticeable as the Corvette, though, thanks to its unusual grille that seems far too small to pass enough cooling air. The side view is smooth and clean with a slightly European-looking dip in the beltline at the door. Its most unusual features are the top that can be placed in an intermediate position and the doors that slide into the front fenders and disappear.
Not only is this a rare chance to own a piece of automotive history it should also prove to be a good investment
Since the car arrived in Los Angeles, from Hyman Ltd. in ST Louis from whom it was purchased it has been garaged. The car has not been driven much over the last several years. Relocation back the UK forces sale.
Thank you for visiting!
VIN: 16101327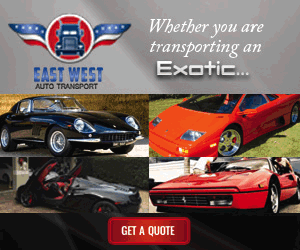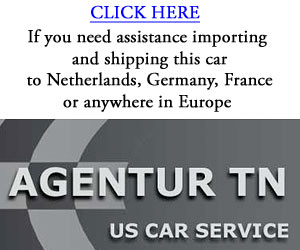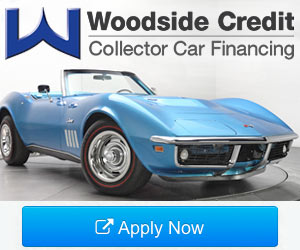 ---
1954 KAISER DARRIN FEATURED PHOTOS:

click photo below - use right and left arrow keys to view pictures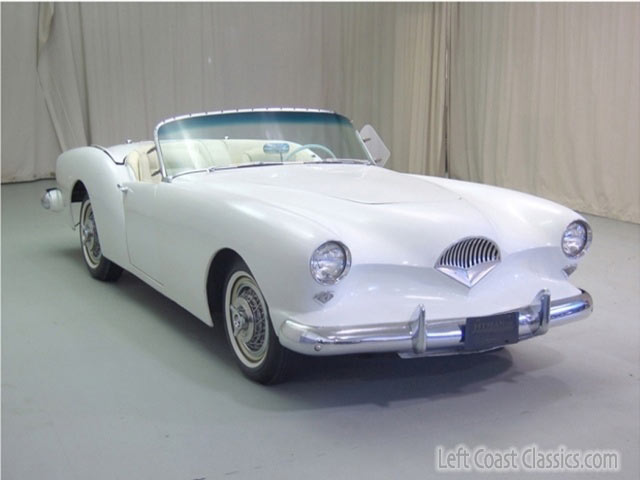 ---
VIDEO GALLERY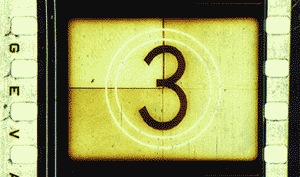 CLICK BELOW FOR THE VIDEO FOOTAGE!
---
SLIDESHOW GALLERY
CLICK A PHOTO GALLERY BELOW!
---