1911 Ford Model T
Rare Jitney Bus - Great History!
This fun old Ford Jitney Bus has SOLD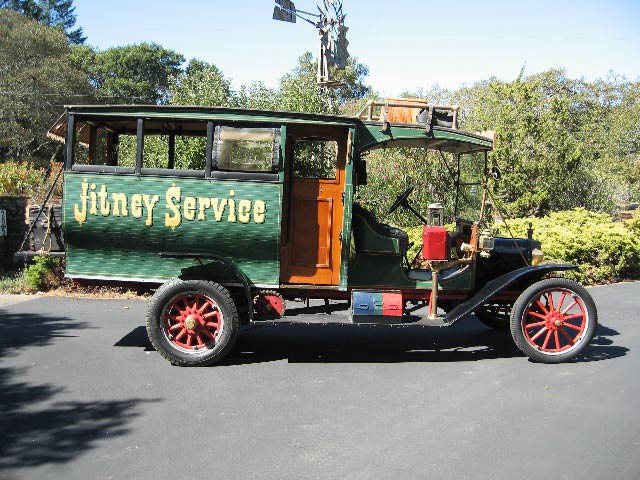 When I heard about this Jitney bus and knew that I may get it in my inventory, I came across the article below on eBay. Cars & Parts magazine was gracious enough to grant me permission to use this article to describe this special piece of Model T automotive history. This is an article written by By Arch Brown. I encourage you to read it in its entirety then see the photos and videos I have taken. As always, I welcome your calls...
High atop Mount Lowe, in the San Bernardino Mountains, stood Ye Alpine Tavern, a favorite watering hole and weekend resort for Southern Californians in the early years of this century.
A 75-minute trolley ride brought visitors from Los Angeles to a pavilion in Rubio Canyon, at the foot of the mountain. There they boarded a little cable car for a 10¬minute ascent up a heart-pounding, 58-percent gradient to Echo Mountain House, a posh 70-room resort hotel.
Travelers who wished to venture further up the mountain then transferred to an open-sided, narrow-gauge railway for the four-mile ride to Ye Alpine Tavern, elevation 4,414 feet. Any modern safety inspector would make short work of that brief ride, which took its passengers over 18 trestles and whipped them around no fewer than 127 curves - one of them measuring 112 degrees! - before reaching its destination. In several places the vacationers experience the high adventure (or perhaps the dubious pleasure) of looking out over the side of the open car to the yawning abyss below. Clearly, the trip must have been an exercise in sheer terror!
Echo Mountain House is long gone now, destroyed by fire in 1905. Ye Alpine Tavern remained a popular vacation resort until Sept. 15, 1936, when it, too, burned to the ground. The spectacular Mount Lowe Railway continued to bring sightseers, but there was no longer very much to see; and operations ceased the following year. A torrential rainstorm in early March, 1938 tore out some of the trestles and washed away much of the roadbed; and the Mount Lowe Railway was no more.
There remains one intriguing souvenir of that romantic time: a little 1911 Ford Jitney. Seemingly nobody remembers, any more, where it fitted into the scheme of things. But barely visible in gold leaf lettering on its headboard is the legend, "Mount Wilson and Mount Lowe Stage Line".
And we are left to wonder: How was the little bus used? Possibly it could have augmented the service provided by the electric trains, delivering sightseers to the pavilion at Rubio Canyon. And could it, perchance, have climbed the toll road to the observatory at nearby Mount Wilson? Unquestionably it had hills to climb, for the little 20-horsepower Model T engine is hooked to three gearboxes. And with all three of them in "low," the Jitney is very nearly capable of climbing a wall!
Yes, indeed. Three gearboxes! The first is the familiar Ford two-speed planetary transmission, operated by means of foot pedals. Then to the driver's left is the control handle for a two-speed Ruxtell axle, while to his right is a three-speed Warford gear case. In combination the three units provide 12 speeds forward and six in reverse. They also provide the driver with plenty to do!
At some point over the years a later-vintage Model T engine, complete with self-starter, was substituted for the original. And somebody, either a sly humorist or a total optimist, has fitted the jitney with a 60-mile-an-hour speedometer!
Apart from that wild-eyed speed indicator there aren't any instruments on the dash. There aren't supposed to be, in a 1911 Ford, just a hardwood box for the spark coils. But there's a great bulb horn with a voice like an angry goose, and a fine brass bell mounted on the left side. A big red signal arm indicates the driver's intentions, provided, of course, that he can spare a hand to operate it. And if the brass lamps don't provide much illumination, at least they look magnificent!
At the rear the chain drive chatters noisily as the little Ford chugs along. But who ever expected a Model T jitney to run quietly?
The diamond-tufted leather front seat, undoubtedly an improvement upon the original, is quite comfortable. But to the rear the passengers are seated on hard oaken benches. There's room back there for eight adults, maybe 10 if they don't all inhale at the same time. A small table is provided, purpose unspecified; and overhead is a tiny oil lamp that couldn't possibly provide much more than a warm glow.
Come to think of it, no wonder the poor little jitney had to have all those gears! That heavy hardwood body, inhabited by eight or 10 people, would have made quite a load for a 20-hp engine to haul up the grade to the Rubio Canyon Pavilion, elevation 1,954 feet! Of course, there was the matter of the travelers' luggage. A huge roof rack took care of that little detail, and pity the passenger whose gear got rained on!
A set of three brightly-painted cans is perched on the right running board: a red one for gasoline, blue for oil, black for water. Having had a little experience with Model T Fords, it's our guess that the driver found lots of use for the black one!
The jitney has been owned for the past decade or so by Delbert Pantel, Chico, California He bought it in Glendale, not far from the scene of its early activity; but he's as mystified as the rest of us as to the particulars of its early career. No matter. It's a great conversation piece!
Obviously, the bus has aged a bit and old Delbert has not owned it for 20 years. It has had one owner since who has maintained it and stored it in his indoor, heated garage. It will need a few weekends of polishing the brass and detailing but it runs and drives well. The original roof rack has been replaced by the latest owner. If you're a Model T collector, this Jitney is a must!
Thank you for visiting!
---