1965 Cadillac DeVille Convertible
Radio Megastar Michael Savage's California Car
This Fine Cadillac DeVille has SOLD
......More Classic Cadillac's for Sale Below.....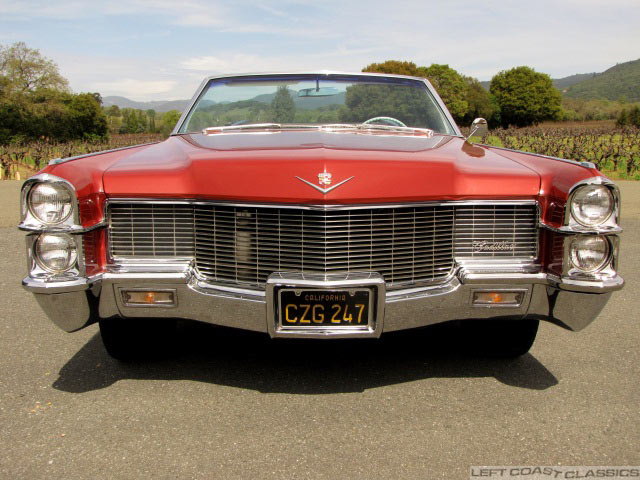 Beautiful 1965 Cadillac Convertible DeVille for sale belonging to radio superstar Michael Savage of The Savage Nation. Michael has spoken affectionately of this car frequently over his illustrious career, etching it into the minds of his 8-10 million listeners each week with great stories. His stories accentuate a proud and patriotic time in our American history which is rekindled for many of us through our love of classic cars.
Interestingly, he purchased this DeVille the same week he launched his radio career, which was nearly 20 years ago. Therefore, it has become a memoir of sorts - a bookmark for what has become a successful-beyond-belief career in talk radio. You cannot hear Michael Savage speak of this car without repeating his epigrammatic phrase.."..a time when America was great...when the chrome was thick and the women were straight!".
Aside from having such cool provenance, this is one extremely solid, original low mileage car with purportedly (and very believably) only 58,500 original miles. In fact, the oil change sticker in door shows 26,681 in 1976 and and 38,183 miles in 1989. Mr. Savage purchased the car from its original owner in Northern California and has since used it lightly. Along the way he made some meaningful improvements to assure comfort and continuing reliability.
The car looks to have had one respray by the original owner and presents well. Even both original black California license plates are still on the car since new. The finish on the chrome looks fantastic, along with the stainless steel and glass. The body is truly rust free. There are a few chips here and there and a couple of minor door dings as one would expect after this long, but they certainly do not detract from the overall impression. If anything, they just accentuate the character. It is a very attractive classic Cadillac that is fastidiously detailed and clean - not a trailer queen you'd be afraid to drive, but one you can get in and enjoy with your shoulders down and your head held high.
The front seating was recently re-upholstered due to driver side wear and the new leather gives it a fresh look and wonderful leathery scent. The rugs are nearly impeccable, having been mostly covered in the original one-piece GM rubber mat (included) and appear to be original, along with the door panels and dash. The chrome and stainless steel inside the car are also in wonderful condition. To top it off, the trunk has its original fabric and rear panel, is quite well preserved and includes the original jack and spare still wearing what looks to be the original period radial tire.
Look up at the latch area and there is the original factory affixed label with jacking instructions still intact. The wipers, radio, lighting, power windows and locks all work as intended - even the factory Sentinel lighting system. The air conditioning blows ice cold. Michael had a cleverly installed secondary fan system which boosts the ice cold air out of the upper vents, allowing the interior to cool off quickly on the hottest of days. The clock was rebuilt using quartz for reliability and accuracy so it won't drain the battery. It is totally obvious that this has been an indoor car and was well cared for from the beginning.
As reliable as Michael is each day on the radio, it's no surprise that his car's mechanical systems reflect this value as well. It starts easily, runs and drives smoothly, shifts through the gears exactly as the Cadillac gods intended. The motor is quiet and smooth, the brakes are responsive, stopping on a dime and giving change. The front end has been rebuilt and is tight as the day it rolled off the showroom floor. It's unusual to drive a Cadillac of this era with such wonderful suspension.
I have blazed the wine country roads in this car as well as the freeway and city streets. No matter where it takes me, I am amazed at how much fun it is to drive. The cooling system is fantastic as well. In fact, during the photo sessions, the car was left running in excess of two hours and it stayed blissfully cool as a cucumber.
Michael loves his iconic Cadillac for so many reasons yet believes that it is time for it to find its way to an equally appreciative new owner. Hopefully someone with shared values that will carry on the stories and appreciate the time in our country from which it came, "when America was great... when the chrome was thick and the women were straight!".
Also, Michael Savage is happy to personalize the car upon request should a fan buy it, sign the dash, include a signed poster of him standing with the car and include a personally signed letter of authenticity to you if so desired. I am honored to be given the task of finding this very special Cadillac the new perfect owner. Will it be you? Direct your inquiries to Left Coast Classics owner Donn Dabney at 707-332-8331.
Left Coast Classics... Because life's too short to drive the wrong car.
There are another 205 pictures in addition to what you see here as well as more video so you can get a good look at the car. See the link at the bottom of the page following these first 62 images. Please call Donn Dabney anytime with your questions.
Also, if you have one car or an entire collection to consign and are anywhere in California,
please consider Left Coast Classics.
Thank you for visiting!
VIN# F5141873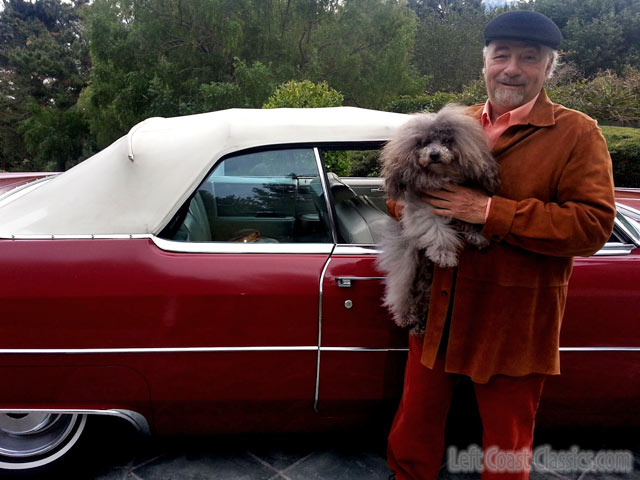 ---
1965 CADILLAC DEVILLE FEATURED PHOTOS:

click photo below - use right and left arrow keys to view pictures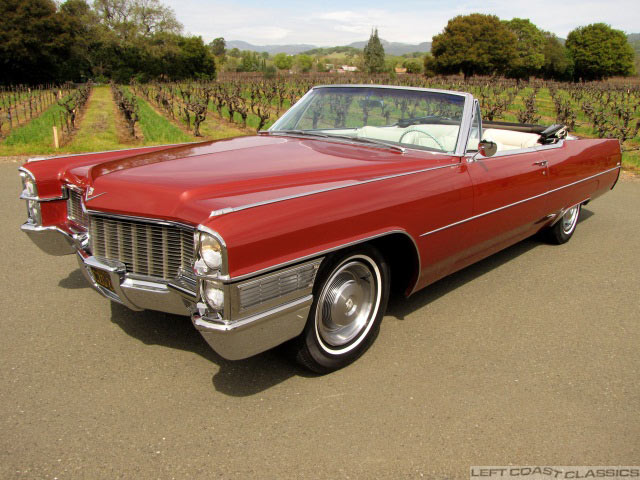 ---
VIDEO GALLERY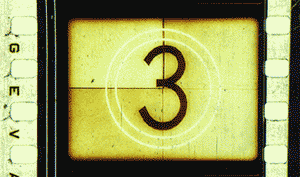 CLICK BELOW FOR THE VIDEO FOOTAGE!
---
SLIDESHOW GALLERY
CLICK A PHOTO GALLERY BELOW!
---